The current pandemic has transformed how we live; however, there are still many opportunities to engage in some of our favorite activities, albeit with slight modifications. With winter upon the DC area, many restaurants have found innovative methods to keep diners warm and COVID-safe including tents, igloos, and fire pits. Here are some of the top COVID-friendly locations to dine this winter.
Hook Hall
This Park View bar reinvents itself with a new theme every season. This winter's Viking/Nordic theme invokes a very fitting rugged survivalism. Visitors can reserve blanket-covered seats by firepits or a Viking hut with cozy seating. The menu features Scandinavian style beers, stews, meats, and cheeses among other fare. Of course there is also mead.
Del Mar
Del Mar is well-known for their Spanish style fare, particularly their delicious paella. Transparent igloos and a water view await diners here as they munch on tapas and seafood. The seafood tower provides an excellent array of food as well. Igloos can be reserved from two to six people.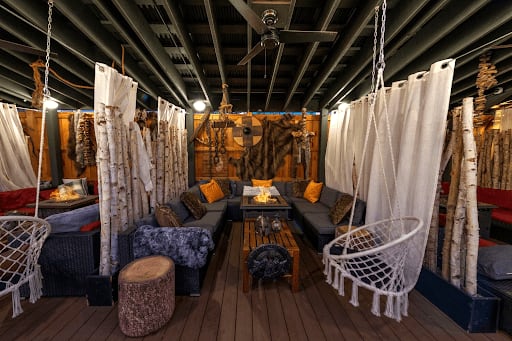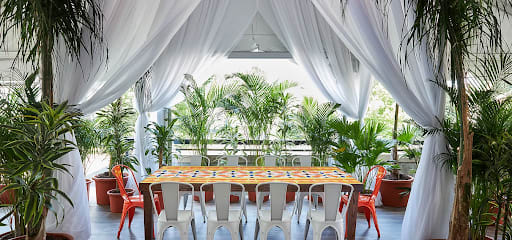 The Loft at Lena's
With a cozy feel and the aesthetic of a ski lodge, The Loft at Lena's was specifically designed for pandemic dining. A large outdoor fire pit keeps diners warm while they enjoy a wide array of wood-fired pizzas and house-made pastas.
Ted's Bulletin
For those wanting a last minute bite, Ted's Bulletin offers first-come, first-served igloos to dine in. It is perhaps best known for its homemade pop tarts; however, it provides many delicious items including crab benedict, shepherd's pie, and a coffee rubbed filet mignon. Ted's also is one of the few places that does not charge a fee for their igloos.
Ambar
The area's top-rated restaurant on Trip Advisor has invested in an outdoor patio at its Arlington location ringed with elegant glassed in houses. This location is renowned for their all-you-care-to-eat Balkan dishes, allowing you to thoroughly explore the cuisine of Serbia including cheese pie, short rib goulash, and pepper croquette.
Rakuya
If sushi is more your speed, Rakuya offers greenhouse seating. In addition to sushi and sashimi assortments, this locale is known for its coconut yellow curry, dumpling soup, and Asian hanger steak, and chicken & kale salad. This is a great option for virtually any budget with a surprisingly large variety on the menu.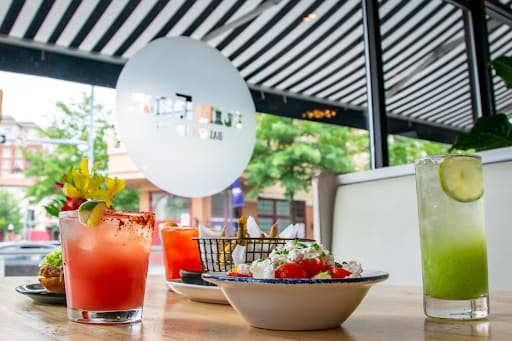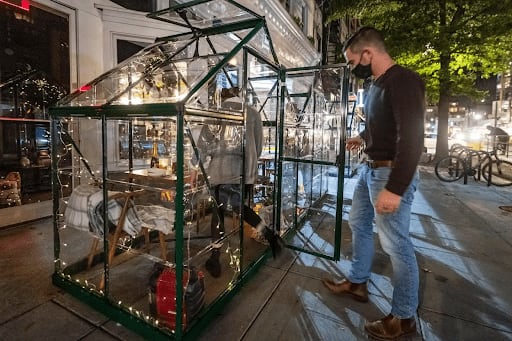 Bresca
This restaurant has several two-person lodges that can be booked in their outdoor seating area. Diners in this cozy environment can enjoy a pre-fixe menu or order a la carte. Bresca provides a variety of inspired innovations on traditional gourmet fare. The brioche is particularly delicious.
Founding Farmers
One of the most popular restaurants in the DC area, Founding Farmers prides themselves on using ingredients from "farmers we know and trust." Most locations including the primary one on Pennsylvania Avenue have heated outdoor tents that can be booked while locations such as the one at Reston Station have a winterized, heated patio. The crab macaroni and cheese is hard to beat.